New LOWER Pricing: $49.99 per year! WeatherSpork is now available in the Apple App Store for $4.99 month or $49.99 per year. Simply renew your membership via the WeatherSpork app!
Users who purchased via AvWxWorkshops: The marketing relationship between WeatherSpork and AvWxWorkshops ended in April 2021. Members who purchased WeatherSpork prior to that time will continue to enjoy access to WeatherSpork until the completion of their annual AvWxWorkshops membership. After that time, you'll receive a notification to renew your WeatherSpork membership via the app at our new LOWER price of $49.99 per year.


Weather analysis couldn't be any easier!
Welcome to WeatherSpork, the strategic all-purpose weather planning app for pilots. WeatherSpork offers an inexpensive, route-oriented and multi-faceted approach to uniquely blend online weather guidance along with aviation weather education. The app is beautifully implemented whether you are using it on your laptop, desktop or portable devices downloaded from the App Store or Google Play Store.
"This is truly a GREAT weather product. It is a great tool for being able to plan up to 3 days out, and I have found the accuracy to be much better than other products. Also, in a few clicks you have access to lots of different ways of looking at the data. Definitely worth the subscription cost!" – Jim B.
WeatherSpork was proudly designed from the ground up to provide high-resolution weather guidance to complement the apps you normally use in the cockpit while teaching you how to successfully interpret that guidance. At the moment, WeatherSpork provides the most utility for pilots flying within the United States (lower 48) although plans are in place to expand beyond the borders into Canada, Mexico and the Caribbean in the near future.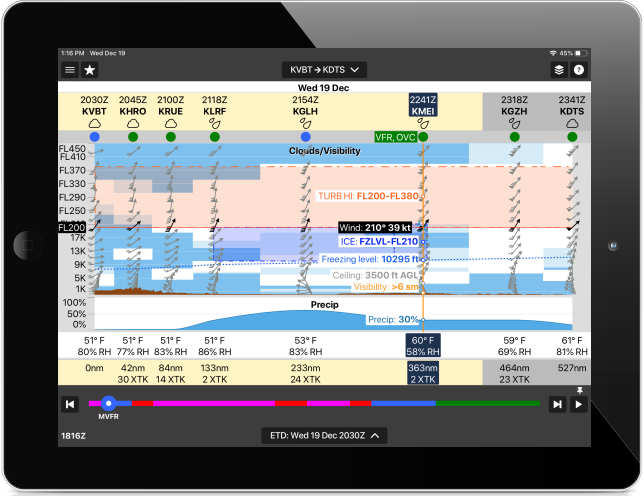 Weather guidance at your fingertips
Weather is by far the single biggest physical factor affecting your flying activity. Moreover, what's happening with the weather at the surface and aloft plays a critical role in your routine aeronautical decision making and is probably the number one worry before many of your flights. It doesn't matter if you are a student pilot, seasoned professional or somewhere in between, you must possess the latest guidance in order to minimize your exposure to adverse weather.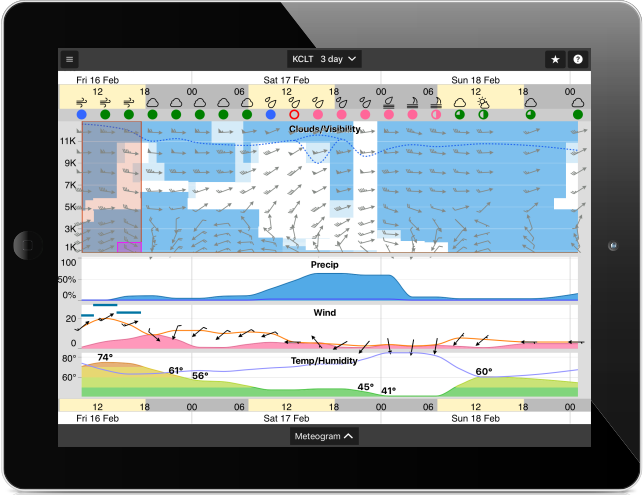 More great reviews from our users!
"Just want to express my appreciation for WeatherSpork. The WeatherSpork app enabled me to visualize the forecast weather along my intended route and alternate routes. The visual presentation really makes decision making much easier. I put my route structure into the Favorites folder and could call them up at a moments notice. When confronted with less than favorable weather on day two, I was quickly able to run a few scenarios to determine a best course of action. I have used WeatherSpork for other long flights but those were IFR in a G1000 equipped A36. The Citabria flight left fewer options." - Leo L.
"What I always felt was missing was a mobile type weather flight planning platform so you could "SEE" everything on one page. Well, you freakin nailed it. And way better than I could have imagined. Very thoughtful, intuitive, and really idiot proof and easy to use. And no more looking through pages and layers of materials to find what you need! Looking forward to the upgrades to fine tune it." - Louis O.
"I love WeatherSpork. It's my go-to app now for weather planning … Used it to weather plan the trip down to Florida on Wednesday and it was highly accurate. Even sitting here now in the Keys on vacation, I'm keeping an eye on the route home to Philly on Sunday using the route view and time slider. Looking forward to this app's continued development." - Aaron W.